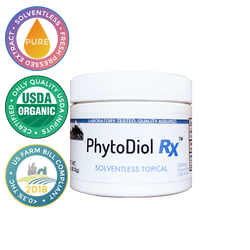 Foothills CBD
Foothills CBD | PhytoDiol RX | Organic CBD Salve | Solventless Full Spectrum CBD
PhytoDiol RX an all organic, Non-GMO, paraben free, rejuvenating salve. Infused with 500mg of pure Full Spectrum CBD Rosin per ounce! Formulated to nourish and moisturize dry skin without leaving a greasy feeling. A little bit goes a long way, simply rub a small amount on any sore or achy area. FOR EXTERNAL USE ONLY.
SOLVENTLESS and SOLVENT-FREE  are not the same... PhytoDiol RX is a REAL Full Spectrum daily usage topical made strictly without the use of any / all extraction solvents. 99% of Hemp Products on the market are made with some form of chemical extraction process and rendered "Solvent-FREE" with non-detectable levels of residual solvent. SOLVENTLESS means NO solvents were used to extract the native phytomolecules, cannabinoids, and terpenes. This method essentially creates an extract in its purest native form. Utilizing only heat, pressure, and mechanical separation techniques packs our transdermal roll-on with a litany of phytomolecules, CBDa, CBD, CBGa, CBG, THCa, THC, CBC, and other minor cannabinoids & naturally occurring terpenes.
EXPERIENCE A
 

REAL

 

FULL SPECTRUM  FORMULA.

PhytoDiol Rx Solventless Transdermal contains cannabinoids and terpenes not found in products that are made with broad spectrum distillates or isolates. 
 NO
ISOLATES.
NO
DISTILLATES. PURE SOLVENTLESS FULL SPECTRUM CBD ROSIN.
Milligrams of Pure CBD Rosin per Ounce: 500mg 
Total Product Volume: 1 oz & 2 oz. 
Ingredients: Organic Hemp Seed Oil, Organic Grapeseed Oil, Organic Shea Butter, Organic Cocoa Butter, German Chamomile Oil, Methyl Salicylate, Vitamin E, Rosemary Oil, Glyceryl Stearate, Sodium Stearoyl Lactylate, Cetearyl Alcohol, Steric Acid, Jojoba Oil, Organic Beeswax, Niaouli Oil, Organic Sunflower Lecithin, Magnesium Stearate & Full Spectrum CBD Rosin.
Click Here to preview a Certificate of Analysis.

All batches and representative data are relative to the specific Batch Identification Number. For assistance retrieving a specific BIN please contact info@foothills-cbd.com.