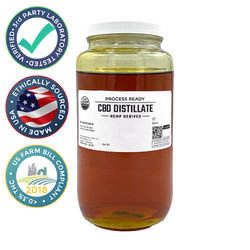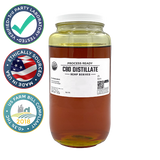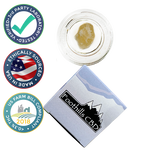 Foothills CBD
Foothills CBD | Broad Spectrum CBD Distillate | THC-FREE
We are pleased to be able to now offer THC-free CBD Distillate. Produced in Colorado from organically cultivated CDA licensed hemp. Our distillate regularly tests above 80% CBD and contains a multitude of other phytochemicals. Every batch is laboratory tested and has COAs available. For wholesale quantities please inquire at info@foothills-cbd.com .
Broad Spectrum CBD distillate is a highly viscous, light yellow to medium amber-orange, opaque oil that does potentially crystallize to a solid form. 
Broad Spectrum CBD Distillate

 Production Capabilities
Scalability: To order
CBD Concentration:

 70

 - 93%+ (Batch Specific, By Order)
Phase (Appearance): Viscous oil, semi-solid 
Source Material: Organically Produced Colorado Hemp
Δ9-THC Content: None detected
Terpenes:

 Contains 0% / wt.
For inquires of 5 KG or larger please give us a call or email us at sales@foothills-cbd.com.
All batches and representative data are relative to the specific Batch Identification Number. For assistance retrieving a specific BIN please contact info@foothills-cbd.com.

Online Quantities: 1 gram, 7 grams, 14 grams, 28 grams, 50 grams, 100 grams, 0.5 kg (BULK), & 1 kg (BULK)