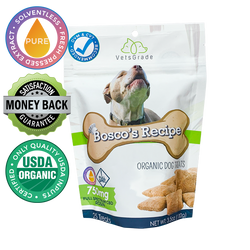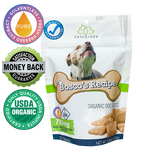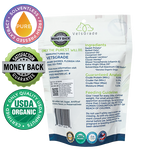 VetsGrade®
VetsGrade® | Bosco's Recipe Organic Dog Treats | 750mg Full Spectrum CBD | 3.5 oz.
VetsGrade® Bosco's Recipe Organic Dog Treats are an all organic Solventless Full  Spectrum Hemp Infused Calming Treat. These tasty hard treats have been formulated not only to be given as a treat to your loved one but to make sure that they get more out of it than just tasty treat. Bosco's Recipe treats use USDA organic ingredients which have been carefully selected and combined with 30mg of domestically produced 100% organic industrial hemp derived Full Spectrum CBD Rosin and other nutrients like essential fatty acids to ensure every treat is healthy as well as delicious.
SOLVENTLESS
 and 
SOLVENT-FREE
  are not the same...
SOLVENTLESS means NO solvents were used to extract the native phytomolecules, cannabinoids, and terpenes. This method essentially creates an extract in its purest native form. 
Contains 25 treats per container. 30mg of Full Spectrum CBD Rosin per treat.
Ingredients Organic Sweet Potatoes, Organic Rolled Oats, Organic Coconut Oil, Organic Cinnamon Oil, Organic Sunflower Lecithin, Organic Clover Honey, Mixed Tocopherols (Vitamin E), Organic Extra Virgin Olive Oil, Full Spectrum CBD Rosin.
Net Wt.: 3.5oz (100g)
All batches and representative data are relative to the specific Batch Identification Number. For assistance retrieving a specific BIN please contact info@foothills-cbd.com.

 FAQs
Each treat has 30mg of Full Spectrum CBD rosin. We suggest about 25mg for every 25lbs your pet weighs.
Yes, you can; to maximize the effectivity of combining VetsGrade's pet supplements. Simply wait a minimum of 2 hours between administering dosages.
Given the individual pets digestion, effects anywhere from 20-45 minutes depending on the size and dose given to your pet.
So far research is showing that there are little to no side effects of Enriched Hemp Oil use. Some pets may experience lethargy and tiredness. Which have been reported by some pet parents. Keep in mind that Enriched Hemp Oil is natural and Non-toxic. If your pet is experiencing tiredness simply reduce the dosage that was given to your pet. When first introducing your pet to Full Spectrum CBD Oil we encourage all pet parents to keep an eye on them.
When people refer to Hemp Oil for pets they are referring to broad spectrum CBD Oil or CBD Isolate infused oil derived from C. sativa - industrial hemp. 99% of these oils and isolates are chemically extracted and generally referred to as SOLVENT-FREE. Our Mechanically Separated Full Spectrum Solventless Extract is 100% Pure and preserves precious native compounds making a REAL Phytomolecule Rich Hemp (CBD) Oil with no more than 0.3% Total THC therefore, your pet will NOT get high.