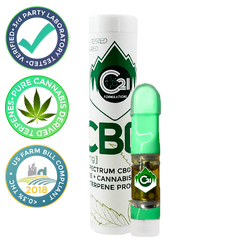 C21 Formulations
Foothills CBD | CBG Sauce Vape Cartridge | Live Resin | 0.5mL
Introducing our NEW line of CBG Sauce cartridges with NO additives, NO glycols, and NO glycerines. Native terpenes profiles and cannabinoids... that's it. A True-to-plant experience!  
NON-psychoactive
Farm Bill Compliant
NO Additives
NO Glycerines
NO Glycols
CryoCarbon Processed
Ingredients: Full Spectrum Plant Extract 
Net Vol.: 0.5mL

Includes (1) 0.5mL C21 Cartridge Only
For Wholesale Inquiries send us an email to sales@foothills-cbd.com.
**ADULT SIGNATURE IS REQUIRE FOR DELIVERY. ALL AVAILABLE VARIETIES ARE SPECIALTY BRED AND SINGLE SOURCED. ALL VAPORIZABLE PRODUCTS CONFORM TO BOTH STATE & FEDERAL COMPLIANCE REGULATIONS. IT IS THE RESPONSIBILITY OF THE PURCHASER TO VERIFY LAWFULNESS OF THE DELIVERING LOCALITY PRIOR TO PLACING AN ORDER. NOT AVAILABLE FOR INTERNATIONAL DELIVERY.