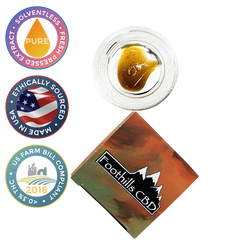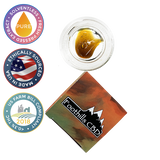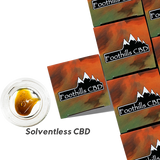 Foothills CBD
Foothills CBD | Hemp Rosin | Solventless Concentrate | Hemp Hash Oil
We are pleased to be able to introduce our first batch of RAW Organic Hemp Rosin!!! Produced in Colorado from organically cultivated CDA licensed greenhouse grown hemp. Every batch is 3rd Party laboratory tested and is Farm Bill Compliant. LIMITED QUANTITIES AVAILABLE
SOLVENTLESS and SOLVENT-FREE are not the same... SOLVENT-FREE means there are no measurable amounts of residual extraction solvent remaining in the product. SOLVENTLESS means that NO SOLVENTS were used in the extraction process. Our RAW Solventless Hemp Rosin has been manufactured utilizing only mechanical separation techniques to provide the fullest spectrum of phytomolecules possible to heighten your CBD experience!
Solventless Hemp Rosin
CBD Concentration:

 34-48

%+ (Batch Specific)
Phase (Appearance): Viscous oil, soft semi-solid 
Source Material: Organic Greenhouse
Δ9-THC Content: <0.3% w/w
Terpenes:

 Native Profile, no re-introduction
INTENDED USAGE: INHALATION, VAPORIZATION 
All batches and representative data are relative to the specific Batch Identification Number. For assistance retrieving a specific BIN please contact info@foothills-cbd.com.

For wholesale inquires please give us a call or email us at sales@foothills-cbd.com.
Net Wt. 1.0 gram