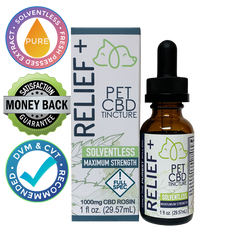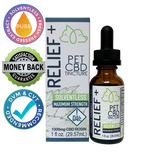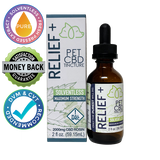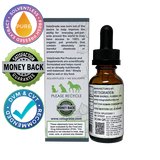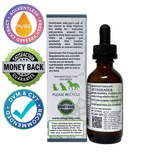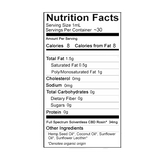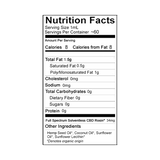 VetsGrade®
VetsGrade® | Relief + | Solventless Hemp Tincture | Real Full Spectrum CBD
We're breaking the mold again with our first RAW Solventless offering! Relief+ Solventless Hemp Tincture is the epitome of what a Hemp Product should be! 
SOLVENTLESS and SOLVENT-FREE  are not the same... Relief+ is a REAL Full Spectrum tincture made strictly without the use of any / all extraction solvents. 99% of Hemp Products on the market are made with some form of chemical extraction process and rendered "Solvent-FREE" with non-detectable levels of residual solvent. SOLVENTLESS means NO solvents were used to extract the native phytomolecules, cannabinoids, and terpenes. This method essentially creates an extract in its purest native form. Utilizing only heat, pressure, and mechanical separation techniques packs Relief+ Solventless Hemp Tincture with a litany of phytomolecules, CBDa, CBD, CBGa, CBG, THCa, THC, CBC, and other minor cannabinoids & naturally occurring terpenes.
A
 

REAL

 

FULL SPECTRUM ORGANIC TINCTURE. 

Relief+ Solventless Hemp Tincture contains cannabinoids and terpenes not found in products that are made with broad spectrum distillates or isolates!

Each vial contains fully solubilized 100% Pure Full Spectrum Solventless CBD Rosin at a solution concentration of 34mg/mL. Each vial comes with a glass dropper for easy dispensing. 

The carrier solution is a specifically formulated mixture designed for increased absorption and bioavailability. All components are plant based, organic, non-GMO, vegan, dairy free, soy free, and gluten free.

To maintain optimal freshness, refrigerate after opening.
NO
 

ISOLATES.

 

NO

 

DISTILLATES. PURE SOLVENTLESS FULL SPECTRUM CBD ROSIN.

Milligrams of Pure CBD Rosin per Bottle: 1000 or 2000mg 

Total Product Volume: 1 & 2 fl. oz

Concentration of Pure CBD Rosin per Milliliter: 34mg/ml

Ingredients: Organic Hemp Seed Oil, Organic Sunflower Oil, Organic Coconut Oil, Organic Sunflower Lecithin, and Full Spectrum CBD Rosin.

Available Volume: 1 & 2oz. 

All batches and representative data are relative to the specific Batch Identification Number. For assistance retrieving a specific BIN please contact info@foothills-cbd.com.

FAQs
It is not recommended to pair both supplements. For optimal use it is suggested to give it to your pet at different feeding times but not together. To give your pet both would simply be wasteful.
Every label has a suggested dosing for daily maintenance and therapy relief. This product has not been approved by the FDA and is not intended to treat, diagnose or cure any disease. Always consult a veterinarian prior to using any product.For Relief +, the Full Spectrum CBD Rosin concentration is approx. 34mg/mL.
Absolutely! Relief + and our Omega-3 infused formula, Vitality VM, are designed for use with both felines and canines of all breeds, sizes, and ages.
When people refer to Hemp Oil for pets they are referring to broad spectrum CBD Oil or CBD Isolate infused oil derived from C. sativa - industrial hemp. 99% of these oils and isolates are chemically extracted and generally referred to as SOLVENT-FREE. Our Mechanically Separated Full Spectrum Solventless Extract is 100% Pure and preserves precious native compounds making a REAL Phytomolecule Rich Hemp (CBD) Oil with no more than 0.3% Total THC therefore, your pet will NOT get high.
Depending on your pet's digestion, effects can be seen anywhere from 20-45 minutes depending on the size and dose given to your pet.
So far research is showing that there are little to no side effects of CBD use. Some pets may experience lethargy and tiredness. Which have been reported by some pet parents. Keep in mind that Full Spectrum Solventless CBD Oil is natural and Non-toxic. If your pet is experiencing tiredness simply reduce the dosage that was given to your pet. When first introducing your pet to CBD Oil we encourage all pet parents to keep an eye on them.
An Oil syringe dropper is in every bottle that can be used to measure the proper daily dose. You can add it directly to your pets food or simply use the dropper to give by mouth. Which ever is most convenient for you and your pet.