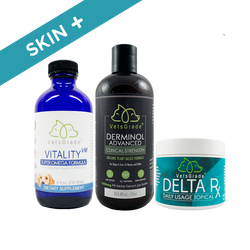 VetsGrade®
VetsGrade® | SKIN+ Pack | 1200mg Full Spectrum CBD | Pet Bundle
The VetsGrade® SKIN+ Pack Bundle couples together our SUPER Omega-3 Formula Vitality VM, Solventless Full Spectrum Clinical Strength Derminol Advanced Shampoo, and gives you our Delta Rx Daily Topical absolutely FREE!!! This unique offering specifically help address dermatological issues your furry family friend may be experiencing. Scientifically formulated all organic products at a price you'll love!
SOLVENTLESS
 and 
SOLVENT-FREE
  are not the same...
SOLVENTLESS means NO solvents were used to extract the native phytomolecules, cannabinoids, and terpenes. This method essentially creates an extract in its purest native form. 
BUNDLE INCLUDES: (1) 8oz. Vitality VM Tincture, (1) 12oz. Derminol Advanced Shampoo, & (1) FREE 2oz. Delta Rx Daily Topical 
Bundles cannot be combined with any other promotional offers.