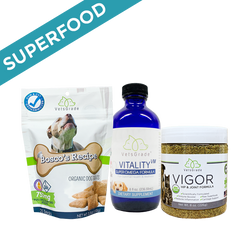 VetsGrade®
VetsGrade® | Superfood Pack | 750mg Full Spectrum CBD | Pet Bundle
The VetsGrade® Superfood Pack Bundle couples together Vitality VM, Bosco's Recipe Organic Solventless Treats, and gives you our Vigor Organic Hip & Joint Formula absolutely FREE!!! This power packed combo helps specifically address your furry family friend aging challenges. Scientifically formulated organic products at a price you'll love!
SOLVENTLESS
 and 
SOLVENT-FREE
  are not the same...
SOLVENTLESS means NO solvents were used to extract the native phytomolecules, cannabinoids, and terpenes. This method essentially creates an extract in its purest native form. 
BUNDLE INCLUDES: (1) 8oz. Vitality VM Tincture, (1) Bosco's Recipe Organic Treats, & (1) FREE 8oz. Vigor Hip & Joint Formula
Bundles cannot be combined with any other promotional offers.