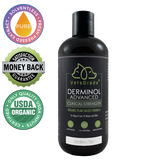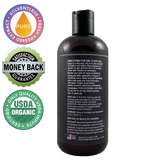 VetsGrade®
VetsGrade® | Derminol Advanced | Solventless CBD Shampoo | Full Spectrum Pets
VetsGrade® Derminol Advanced Shampoo is an all-organic Solventless Full Spectrum Hemp Infused clinical strength shampoo that is scientifically formulated with essential oils and plant based natural moisturizing agents to soothe irritated and inflamed areas of your pets skin like no other. This one of a kind, non-toxic, shampoo is safe for use on all sizes and breeds of both dogs and cats.
Suggested use Apply a generous amount to your pets wet coat, rub on to their skin and hair to create a rich lather. Allow Shampoo to remain on their skin and hair for 5-10 minutes. Rinse well and repeat if necessary.
Ingredients Water, Coconut Oil*, Potassium Hydroxide, Palm Kernel Oil*, Olive Oil*, Hemp Seed Oil*, Jojoba Oil*, Citric Acid, Clover Honey*, Coconut Milk*, Tocopherol*, Lavender Oil*, Shea Butter*, Tea Tree Oil*, Full Spectrum Hemp Rosin*. 
* Denotes organic origin    
† None remains after saponifying oils into soap and glycerine
1200mg Full Spectrum Hemp Rosin / bottle
Net Vol: 12oz (354.88mL)
FAQs
No, Derminol Advanced does not contain any parabens, phthalates, silicones, sulfates, synthetic colors, preservatives or fragrances.
Scientifically formulated for both dogs & cats. All mammals have cannabinoid receptors in their skin that activates CBD. This in turn can help your pet's anti-inflammatory properties to take effect in their skin.
Derminol is safe to use on your pet multiple times a week. This Shampoo will not dry out your pets' skin or fur.
So far research is showing that there are little to no side effects of Enriched Hemp Oil use. Some pets may experience lethargy and tiredness. Which have been reported by some pet parents. Keep in mind that CBD is natural and Non-toxic. If your pet is experiencing tiredness simply reduce the dosage that was given to your pet. When first introducing your pet to CBD Oil we encourage all pet parents to keep an eye on them.
When people refer to Hemp Oil for pets they are referring to broad spectrum CBD Oil or CBD Isolate infused oil derived from C. sativa - industrial hemp. 99% of these oils and isolates are chemically extracted and generally referred to as SOLVENT-FREE. Our Mechanically Separated Full Spectrum Solventless Extract is 100% Pure and preserves precious native compounds making a REAL Phytomolecule Rich Hemp (CBD) Oil with no more than 0.3% Total THC therefore, your pet will NOT get high.