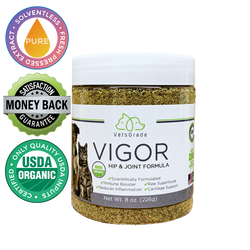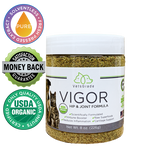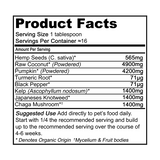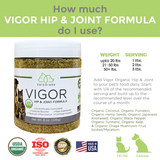 VetsGrade®
VetsGrade® | Vigor | Organic Hip & Joint Formula
When it's time to play, don't let achy bones slow your furry friend down. VetsGrade Vigor Hip & Joint is made with 100% organic ingredients. This complete scientifically formulated powdered supplement is packed with RAW superfoods, and is a natural anti-inflammatory designed to keep your dog or cat in tip top shape!
Ingredients Organic Coconut, Organic Pumpkin, Organic Hemp Seeds, Organic Japanese Knotweed, Organic Black Pepper, Organic Turmeric, Organic Kelp,  & Organic Chaga Mushroom Fruit bodies/Mycelium.
MADE IN THE U.S.A

Net Wt: 8oz. (226.8g)
FAQs
Vigor Organic Hip & Joint has been designed to be added directly to your pets wet order dry food. Always consult a licensed veterinarian prior to using any product.
Add Vigor Organic Hip & Joint to your pet's food daily. Start with 1/4 of the recommended serving and build up to the recommended level over the course of a month.
Our Hip & Joint Formula has about 15% turmeric by weight. There is approximately 71µg of raw turmeric in each tablespoon.
Chaga mushrooms are brimming with antioxidants! They contain polysaccharides that boost heart, intestinal and liver health, and also energy levels.They possess anti-inflammatory properties, especially in cases of inflammatory bowel disease (IBD), plus exhibiting some pain-relieving benefits.