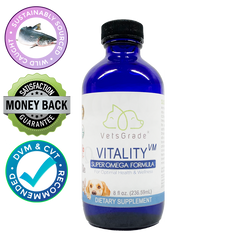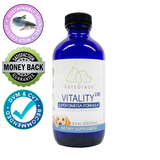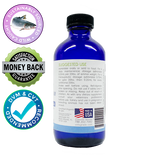 VetsGrade®
VetsGrade® | Vitality VM | SUPER Omega Formula | 100% Wild-Caught
VetsGrade® Vitality VM is an organic, wild-caught, SUPER Omega Formula Supplement. Packed with essential fatty acids, GLA, ALA, and Omega-3,6, & 9. 

SUPPORTS A HEALTHY SKIN, COAT, JOINTS, AND HEART.
Made exclusively from sustainably sourced organic carrier oils, plus sardines and anchovies, our SUPER Omega Formula safely provides the daily omega-3s your dog or cat needs to live an active, happy life.
Supports brain and eye development and maintenance

Supports heart health

Safe for dogs and cats
Suggested Use Can be administered orally or added to wet/dry food. For a daily maintenance dosage start around 0.25mL per 25 lbs. of animal weight. For a therapeutic dosage start around 0.75mL for up to 25 lbs. , then give an additional 0.25mL for every 25lbs. of animal weight.
Ingredients Organic Hempseed oil, Omega-3 Fish Oil (18%EPA:12%DHA), Organic Sunflower Lecithin, Organic Flax Oil.
FOR OPTIMAL HEALTH & WELLNESS.
Available Volumes: 8oz.
FAQs
It is not recommended to pair both supplements. For optimal use it is suggested to give it to your pet at different feeding times but not together. To give your pet both would simply be wasteful.
Every label has a suggested dosing for daily maintenance and therapy relief. This product has not been approved by the FDA and is not intended to treat, diagnose or cure any disease. Always consult a veterinarian prior to using any product.
Absolutely! Vitality VM and our MAXIMUM Strength formula, Relief +, are designed for use with both felines and canines of all breeds, sizes, and ages.
When people refer to Hemp Oil for pets they are referring to broad spectrum CBD Oil or CBD Isolate infused oil derived from C. sativa - industrial hemp. 99% of these oils and isolates are chemically extracted and generally referred to as SOLVENT-FREE. Our Mechanically Separated Full Spectrum Solventless Extract is 100% Pure and preserves precious native compounds making a REAL Phytomolecule Rich Hemp (CBD) Oil with no more than 0.3% Total THC, therefore, your pet will NOT get high.
Given your pet's digestion, effects can be seen anywhere from 20-45 minutes depending on the size and dose given to your pet.
So far research is showing that there are little to no side effects of CBD use. Some pets may experience lethargy and tiredness. Which have been reported by some pet parents. Keep in mind that CBD Oil is natural and Non-toxic. If your pet is experiencing tiredness simply reduce the dosage that was given to your pet. When first introducing your pet to CBD Oil we encourage all pet parents to keep an eye on them.
An Oil syringe dropper is in every bottle that can be used to measure the proper daily dose. You can add it directly to your pets food or simply use the dropper to give by mouth. Which ever is most convenient for you and your pet.